MARCH 5, 2019  |  ANGEL eNEWS
ANGELS WOW ATTENDEES DURING S.T.E.M. FESTIVAL
Thank you to all of our IWA community members and students who made our second annual S.T.E.M. Festival such a huge success! The festival was held on March 8th in the school's Mother Patricia Gunning Gymnasium.
Festivalgoers had a blast as they visited over 30 student-led exhibits focused on various S.T.E.M. activities such as robotics, biology, 3D printing, drones, green screen photography, and so much more.
Integrated into the curriculum beginning at the Elementary Level, S.T.E.M. classes are designed to teach students a diverse range of critical thinking and reasoning skills. These types of lessons enhance student collaboration, creativity, and communication skills while also preparing students for potential careers in S.T.E.M.
Media Gallery: Campus-Wide S.T.E.M. Festival
Angels in the News: South Texas Catholic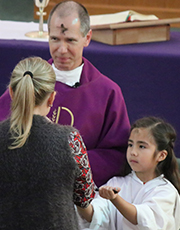 JOIN US DURING ASH WEDNESDAY
As we near toward the Lenten Season, we bask in the opportunity to become introspective, give our struggles to God, and invite him into our lives to help us become the best versions of ourselves possible. Lent begins on Ash Wednesday and we would love for you to attend Mass with your Angels on March 6th. Please visit our
Campus Calendar for Mass times.
Elementary Level Ash Wednesday Mass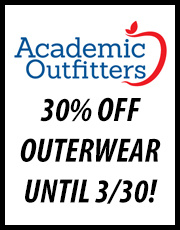 It's going to be a cold week in Corpus Christi! Now is the time to take advantage and stock up on outerwear at Academic Outfitters, located at 1334 Airline Rd. From now until March 30th, Academic Outfitters is offering 30% off on all in-stock IWA outerwear (with logo) as well as boys husky khaki pants and braided belts. Stop by Academic Outfitters today and keep your Angels bundled up!
ANGELS STEP UP AGAINST JPII
DURING 2019 CATHOLIC CLASSIC
Our varsity baseball team will be taking on St. John Paul II High School during the 2019 Catholic Classic this Friday, March 8th. We invite the entire IWA community to fill Whataburger Field with a sea of red and White this Friday, March 8th in support of our Angels! Ticket prices will be $5.50 for adults and $3.50 for students.
March 8th: 2019 Catholic Classic Baseball Game
ANGEL BUDDIES GATHER TO BEGIN LENTEN CELEBRATIONS
Students at the Elementary Level met with their eighth grade Angel Buddies on February 19th for an activity focused on the scripture John 12:24.
In preparation for Lent, Angels unpacked the mysteries of life and death by planting small seedlings into dirt. Come springtime, the students will join together once again to marvel at how their small, hard, dead grain of wheat transformed into a soft, vibrant plant bursting with life, just as Jesus did.
Media Gallery: Angel Buddies Lenten Activity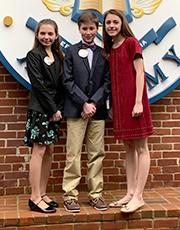 STUDENTS SHAKE THINGS UP
AT NATIONAL COMPETITION
Congratulations to our Middle Level seventh-graders Annabelle Clark, Gillian Lippincott, and Wilson Vanexan who competed in the 2019 National Amazing Shake Competition at the Ron Clark Academy in Atlanta, Georgia. Wilson placed 13th among 266 students from 21 states and two countries during the international competition. He was also bestowed the Heart and Soul award for his ability to dig deep and fight hard during the rigorous competition. This year's competition was sponsored by Hicks Automotive Group. Way to go, Angels!
Media Gallery: Amazing Shake Competition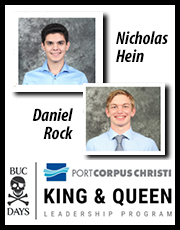 SENIORS SELECTED IN
BUC DAYS LEADERSHIP PROGRAM
Two of our seniors, Nicholas Hein and Daniel Rock, have been chosen as finalists in the 2019 Buc Days King Leadership Program! Angels were selected from a group of over 100 applicants from 11 counties in the Coastal Bend. A total of $62,000 in scholarships will be awarded to the 20 boys and girls selected to participate in the program.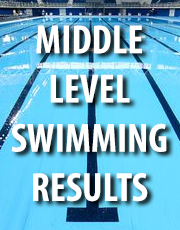 SWIMMERS RULE THE POOL AT
MIDDLE LEVEL ANGEL INVITE
Middle Level swimmers had an outstanding turnout during the IWA Middle Level Angel Invite on March 2nd. Both the sixth grade boys and the eighth grade girls placed first in their division while the seventh grade boys took the fourth place spot overall. The invite also saw first place winners in several individual events: Cole Shulz in the boys' 50 Free and 100 Free; Bella Chimbunde in the girls' 50 Free and 100 Individual Medley; Patience Orms in the 50 Fly; Chloe Rosales in the 25 Sprint Free. It was a great way for our Angels to kick off their swimming season!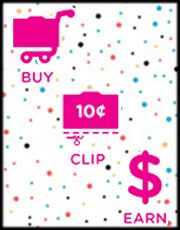 Don't toss your Box Tops! Every Box Top is worth 10 cents and can help your school level grow. Please remember to place your Box Tops in a sealable plastic bag and drop them off at your respective school level office:

Elementary Level: Box Tops can be given to teachers or placed in the drop box located in Mrs. Dottie Garcia's office.

Middle Level: Box Tops can be placed in the drop box located in Mrs. Crissie Stubbs' office.

High School Level: Box Tops can be placed in the drop box located at the High School Level front counter.
GET YOUR SENIOR READY FOR
OPERATION GRADUATION
Is your IWA Angel a part of this year's soon-to-be-graduating Class of 2019? Give your senior an experience they will be sure to remember at Operation Graduation on May 24th. The party will take place at Get Air Corpus Christi from 11:00 p.m. till 5:00 a.m. the next morning. You may pay Mrs. Montano at the High School Level office with cash or check, or if you would like to pay by credit, visit our Operation Graduation Registration Page.
Each student will also need to complete a release form before participating in any activities at Get Air. To complete the Get Air release form,
Connect Socially With Us.
© 2019 Incarnate Word Academy
2920 South Alameda | Corpus Christi, Texas 78404 | 361-883-0857