JUNE 11, 2019  |  ANGEL eNEWS
CLASS OF 2019 EARNS MORE THAN $10.3 MILLION IN COLLEGE SCHOLARSHIP OFFERS
Congratulations to our graduating senior Class of 2019 who received their diplomas at Corpus Christi Cathedral during a special Mass and ceremony on May 24th.

The Class of 2019, which consists of 62 graduating seniors, has received over $10.3 million—and rising—in college scholarship offers, a number that increases every year. IWA seniors consistently boast a 100% graduation rate and 100% college acceptance.

This is an impressive testament to their remarkable individual gifts and IWA's strong reputation as an outstanding college preparatory institution.
Media Gallery: Class of 2019 Graduation
Angels in the News:
EIGHTH GRADERS GRADUATE FROM MIDDLE LEVEL
On May 23rd, eighth graders concluded their final year as Middle Level students during a graduation Mass and ceremony at St. Patrick Catholic Church. Mass was celebrated by Monsignor Roger Smith, who gave a touching, inspirational homily. After Mass, students received their Certificates of Completion from Middle Level Principal Adolfo Garza as well as medals commemorating their years at the Middle Level.
Congratulations, eighth graders! We can't wait to see you emerge as freshmen next year at the High School Level.
Media Gallery: Eighth Grade Graduation
FIFTH GRADERS PROMOTED TO THE SIXTH GRADE
Fifth graders celebrated their last day at the Elementary Level during a special graduation Mass and ceremony on May 23rd in the IWA Chapel. Following Mass, students received their diplomas and gave roses to their parents. Students, families, and friends then gathered for a reception in the James R. Dougherty, Jr. Center.
Media Gallery: Fifth Grade Graduation
LITTLE ANGELS GRADUATE
FROM KINDERGARTEN
The Elementary Level kindergarten class proceeded down the aisle in their red caps and gowns to commemorate their graduation on May 22nd in the IWA Chapel. With proud families and friends in attendance, the little Angels were recognized with a Mass celebrated by Father John Gaffney. Following Mass, students received their diplomas and enjoyed a reception in the James R. Dougherty, Jr. Center.
Media Gallery: Kindergarten Graduation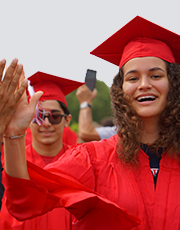 CLASS OF 2019 INSPIRES YOUNG ANGELS DURING SENIOR PARADE
On Friday, May 17th, the Class of 2019 held their annual Senior Parade. Donning their caps & gowns and holding signs displaying their college of choice, graduating seniors were congratulated by students at both the Elementary & Middle Levels. This special tradition is always an exciting event for our seniors.
Video: Class of 2019 Senior Parade
Angels in the News:
SENIORS NAMED FLINT HILLS OUTSTANDING STUDENT SCHOLARSHIP RECIPIENTS
Seniors Chloe Heilman and Samuel Stallings each received a $1,500 scholarship from Flint Hills Resources as they were named Flint Hills Outstanding Student Scholars. Scholarship recipients were honored during a banquet held on May 7th at the Congressman Solomon P. Ortiz International Center.
Media Gallery: Flint Hills Outstanding Scholars
JOSEPH NICHOLSON IS "FUELING GOOD" WITH CITGO SCHOLARSHIP
On May 17th, senior Joseph Nicholson was presented with the CITGO Fueling Good Scholarship, valued at $10,000, to attend Texas A&M Univeristy-Kingsville.
Dedicated to encouraging STEM-related studies in our community, CITGO Government and Public Affairs Manager Christina Cisneros-Guzman presented the academic scholarship to Joseph during the annual Senior Luncheon.
Joseph will be studying civil engineering when he attends TAMUK in the fall. Way to go, Joseph!
Angels in the News: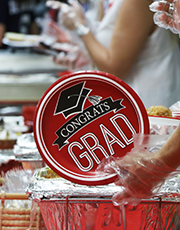 SENIORS HAVE A BLAST AT GRADUATION LUNCHEON
Before heading off to the Corpus Christi Cathedral for graduation rehearsal, the Class of 2019 enjoyed a barbecue luncheon in the Convent Dining Room. The seniors had a great time with friends and won raffle prizes such as an Amazon Fire Tablet, HEB gift cards, IWA Alumni tumblers, and much more!
Media Gallery: Class of 2019 Senior Luncheon
BROWSE OUR MEDIA GALLERIES
Want to see photos from our past events? Our Online Media Gallery goes back all the way to 2012 and is constantly being updated with every academic, athletic, religious, and super fun events that go on at IWA every day. We encourage you to visit our galleries frequently to see what amazing things your Angels are up to!
Visit: Media Gallery
© 2019 Incarnate Word Academy
2920 South Alameda | Corpus Christi, Texas 78404 | 361-883-0857